Chrysler Pacifica Finally Gets an All-Wheel-Drive Model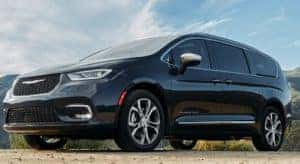 Chrysler has declared that it's all-new Pacifica will be available with an all-wheel-drive choice for the hybrid models. The refresh in the mid-cycle will also constitute a fresh rear and front fascia featuring standard LED lighting. The Chrysler Pacificas for the model year 2021 will reach the dealers before the year ends. 
There was a time when Chrysler offered all-wheel-drive in its minivans. However, that was several years ago in 2004. For the universe, Toyota has had the distinction of having the All-Wheel-Drive minivan market exclusively until now. That is because the automaker's Sienna used to be the sole van, which sent power to all four wheels.
However, now, Chrysler has redesigned its Pacifica minivan. It means that there will be an AWD from this carmaker once again. It is imperative to note that the AWD choice will be only included on the gas-power variants. So, the hybrid models will not have this feature. Also, the All-Wheel-Drive models will be able to retain the rear seats of Stow 'n Go, meaning that the storage advantage will be huge.
Exterior
More importantly, the All-Wheel-Drive is not the only new feature that will be made available by the Pacifica for its mid-cycle refresh. The carmaker has simplified Chrysler Pacifica's front end. It now has a marginally smaller grille featuring a chrome surround. There is a new LED headlight as a standard feature, which is narrower than compared to the outgoing minivan.
Engine and Efficiency
EPA has mentioned that the Pacifica hybrid can give a mileage of 33 miles only on electric power. Its gasoline engine is combined with a 9-speed automatic transmission. On the other hand, the hybrid powertrain boasts a dual-motor eFlite featuring electrically variable transmission.
Technology-Filled Luxurious Cabin
The Pacifica for the model year 2021 will have the distinction of being the first FCA product, which will have the fresh Uconnect 5 infotainment system. Its USB-C charging points are equipped as well. Its new system has the capability to offer over-the-air updates, let the van occupants operate two devices, and Support Amazon Alexa.
Looking for a good Jeep Dealer near Long Island? You can visit Empire Chrysler Jeep Dodge Ram to test drive a Chrysler vehicle.
Source: Chrysler