2021 Jeep Renegade | Off-Road Compact SUV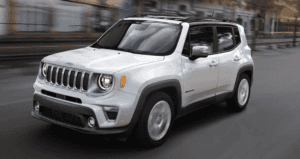 The 2021 Jeep Renegade is a unique vehicle with amazing features. The vehicle tends to break the conventions, delivering a stylish and compact package of pure genius. This vehicle not only checks a big tick on the aesthetics but also promises to deliver performance-wise. The 2021 Jeep Renegade combines phenomenal off-road capabilities and a range of premium features.
Let us have a closer look at some of the updates and key features on the new 2021 Jeep Renegade.
Updates for 2021
The 2021 Jeep Renegade will now come with a range of new features. The vehicle will now be equipped with a new driver-assist tech that includes blind-spot monitoring, lane assist, and traffic alert system, to name a few. These will be complemented by an improved infotainment panel, containing a bigger and better touchscreen (depending on the variant you go for).
Jeep has also decided to add new trim levels that include a special 80th Anniversary Edition and an Islander Edition.
Pricing and our Recommendation
This compact SUV comes in a range of variants/trims. If you are looking to experience the best of the vehicle's off-road capabilities, go for the most premium Trailhawk variant available at around $30,000.
However, we would recommend going for the Latitude variant that offers 17-inch wheels with a dual-zone climate control feature and terrific interiors. If you want, you can even add the four-wheel feature at an additional cost of around $1500.
Performance and other specs
The 2021 Jeep Renegade retains the raw energy that is loved by all the Jeep fans. Its four-cylinder engine promises to achieve 60 mph (ca. 97 km/h) in about nine seconds. You can further improve upon this performance by opting for a 1.3-liter engine backed by turbocharging capacity. The standard option will carry a 2.4-liter engine, while both the engine options will be supported by a nine-speed automatic transmission. All the trims will be available with both front and four-wheel-drive capabilities.
To get more information on the new 2021 Jeep Renegade or other latest cars, visit our dealership near Long Island, NY.
Source: Jeep