2021 Jeep® Wrangler Safety and Security Features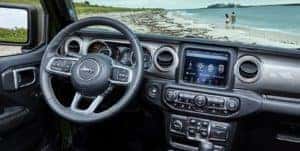 People have different ideas of having fun. While some people love to go to a movie to have fun, others find joy in going on a road trip and going on a long drive. While traveling in a car can be a fun pastime, The Jeep Wrangler for the model year 2021 boasts a host of standard safety and security features. These are specifically designed to keep the driver and other occupants safe. Check out some of these features below:
Forward Collision Warning with Active Braking
The system shall detect if there is a possibility of a frontal collision. It will then send an alert to the driver. If the driver fails to react, brakes will be automatically applied by the system.
Blind Spot Monitoring & Rear Cross Path Detection
It is a feature that uses sensors to find out vehicles, which are in your vehicle's blind spot zones. These vehicles could be passing behind the Wrangler. As soon as the system detects a vehicle, it will send an alert.
ParkSense® Rear Park Assist System
The system sends an alert when it detects obstacles while the driver is reversing into or out of parking lots. It performs best when a driver is driving the vehicle at a lower speed.
Automatic High-Beam Headlamps
It is a feature, which will power on high beams if it senses that those are required. The headlamps will automatically turn to low beams whenever it locates an oncoming vehicle.
Anti-Lock Brakes
These brakes can automatically figure out if any tire does not rotate under extreme braking. It can then modulate the pressure of the brake so that the tire can start rotating. It enhances the ability of the vehicles to turn when the brake is applied.
Side Impact Airbags
These airbags are meant for a vehicle's front seats. They have been specifically designed for protecting the occupants' torso if there is a side impact during a collision.
Front-Impact Airbags
These airbags are meant for the passengers and the drivers. They have been designed so that the heads can be protected when a frontal crash occurs. 
Visit Empire Jeep if you want more details about the 2021 Jeep Wrangler. They are a reputed Jeep Dealer in Suffolk County and serve Bay Shore, North Babylon, and Brightwaters. 
Source: Jeep